Measuring results
Dr. Van Horn and Dr. Laposata worked together to establish and evaluate a coagulation-focused DMT at Vanderbilt back in 2010, the first of several such groups to form across multiple service lines within the organization. Tasked with finding ways to measure the effectiveness of the coag DMT, Dr. Van Horn was able to demonstrate quantifiable outcomes using an Interrupted Time Series system.
"I had to come up with the ability to tell a story that executives in the hospital would believe that said the efforts of this Coag DMT initiative had impact, punch and real tangible value," he recalled.
By definition, the Interrupted Time Series is an analytical approach that examines observations made before and after a specific intervention is put in place to determine a cause and effect.
The Vanderbilt Coag DMT, for example, tracked resource use and length of stay (LOS) for patients with pulmonary embolism (PE) or intracranial hemorrhage six months before and six months after the DMT began by using existing data gathered through charge capture systems.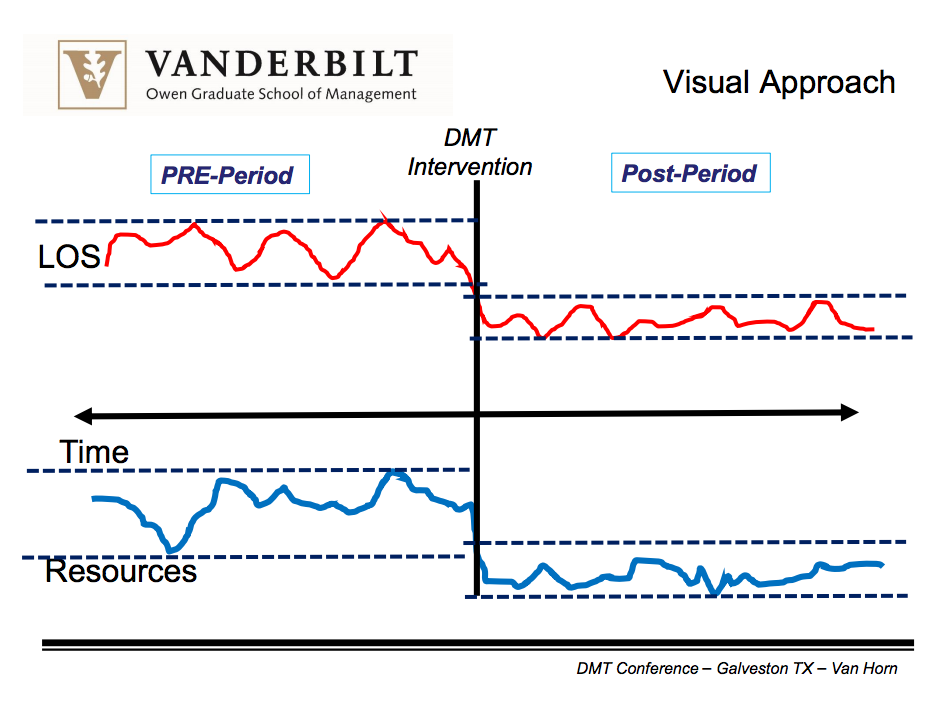 "The goal of hospital administrators is to get admissions, get patients in and out as quickly as possible, and be as efficient as possible in use of resources to generate good outcomes," Dr. Van Horn pointed out. "If they can do things to reduce the length of stay and lower the number of inputs, they're better off."
Using Interrupted Time Series metrics, Dr. Van Horn was able to demonstrate a 33 percent reduction in median LOS and a 25 percent reduction in median charges for PE patients, as well as a 25 percent reduction in median LOS for patients with intracranial hemorrhage. With a one-day LOS reduction carrying average values of anywhere from $1,000 to $1,500, these are measureable results that make the C-suite sit up and take notice.
By graphing his findings, Dr. Van Horn visually indicated reductions in LOS and resource use for both patient groups post-DMT intervention through shifts in distribution tied to the event.